Mesh can be fitted internally or externally and fully powder coated for long term protection. We do not galvanise our mesh, however, a base coat of zinc primer is applied followed by a top coat of polyester powder, in a choice of colours. The mesh is baked in an oven at a high temperature and the result is a grille that will look good for years, instead of the tired look of galvanised steel.
Occasionally, collapsible gates or bar grilles are not suitable for certain applications. Steel mesh provides the perfect solution as it is lighter than bars and is more adaptable.
Shown below are some more sample mesh panels and uses: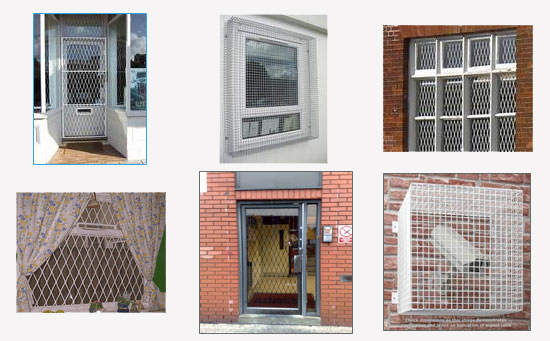 The above mesh panels, are a small selection of what we have in stock and can be used to show customers the different types of mesh available. The list of types and uses of mesh are many It can be used; to protect glass internally and externally, panels can be made to be removeable for maintenance of glass. Door protection, portable and fixed cages, skylights and fence panels.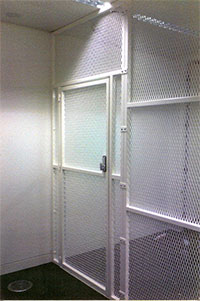 Cage systems can be built using mesh as they can be free-standing cages for individual spaces around workshops or warehouses. They can be formed to produce secure strong rooms, as shown on the left. The mesh panels can be any style of mesh to suit different applications.
A fire escape can be incorporated by adding panic latches and panic bars, with additional protection to prevent unauthorised operation.