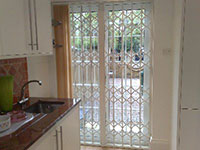 PES Southern Limited are constantly working to achieve the best possible solutions for security and although the collapsible gate, or as it's also known as; sliding retractable gate or concertina gate, has been around for a long time, it is still a firm favourite. Nowadays, customers don't have to settle for the old heavy gates with cumbersome locks that are fiddly to lock are hard to line up.
Many of our existing customers are regularly reordering our new retractable gates.
This image illustrates the "S" type or curved lattice grille in the closed position.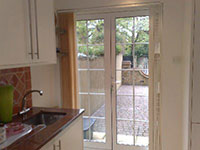 A common misconception that many people have, is that the grilles take up too much space when stacked in the open position. This is not the case, as can be seen in the image on the right. They fold neatly to each side and take up approximately 15% of the total opening.
We Can supply and install collapsible grills to fit any opening. Face or reveal fix, floating sash, bi-parting, single, top hung, bottom rolling,special brackets, whatever your requirements PES Southern Limited grilles, will fit every time.
Styles available are diamond lattice and curved, as shown here.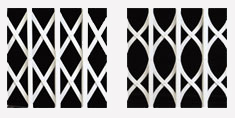 Both of these styles are available in top hung and bottom rolling operations. LPCB level 1 accreditation, is available for high security applications. Contact us for further details.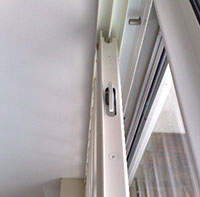 Both sides of the grille lock into each other, with hook bolts, as shown at the top of this picture. Another hook bolt rises in the opposite direction at the bottom and once locked, the bolts are protected each side by overlaps. The key access is through the side and cannot be drilled out. When locked, the hooks cannot be seen from either side of the grille and this provides a slim line look and easier installation of blinds and curtains.
More and more landlords are opting for the collapsible gate as emergency access is paramount from basement rooms. Bulky steel grilles fitted, internally or externally, are no longer desirable as window maintenance is much easier with collapsible gates.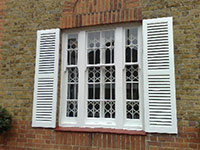 PES Southern Limited grilles not only act as a strong barrier to a potential intruder, they also blend in well and can enhance the look of a plain window.
All PES Southern Limited grilles are available in a range of different powder coated colours, at no extra cost.