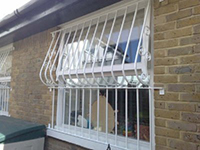 PES Southern Limited provides a wide range of security grilles and gates; manufactured to a high quality, using round or square steel bars of various thicknesses. These can be formed to suit all applications such as; window grilles, door protection grilles, and bespoke designed grilles. All of our grilles can be made to fit any application for example; reveal fit, face fit and cut aways for protruding window vents. Whatever your window or door, we can manufacture a grille that will not only look good but will protect your property against a break in.
This particular window has a top vent that opens outwards, hence, we have bowed the grille outwards. There is limited space to install the grille within the reveal, so face fix brackets have been included. The space at the top sides have been filled with scrolls for extra security and design. This particular grille has very individual design features which is simple and effective.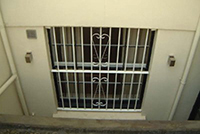 The grille on the left is a basic window grille with 16mm vertical bars. The horizontal bars are pin fixed into the masonry and 4 simple scrolls have been added for decorative effect. This type of grille is very popular for external basements or vulnerable ground floor windows. These are simple, economic and cost effective. Escape hatches or hinges can be incorporated within our grilles for easy window maintenance.
Removable Window Bars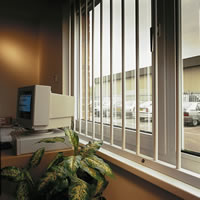 On the left is a simple and effective removable bar system. In the Seceurobar range, each of the vertical bars can be removed by the use of a single key in a locking rail, the bars are then simply replaced by clicking into place.
Hinged Grilles
Below shows a basement window, with a large centre pillar. The requirement was for solid steel exterior grilles that would allow emergency access and ease of maintenance. As can be seen, the use of a single mortice lock allows easy opening from both sides. These grilles can be further enhanced with the addition of scrolls or rosettes as illustrated in the photograph left.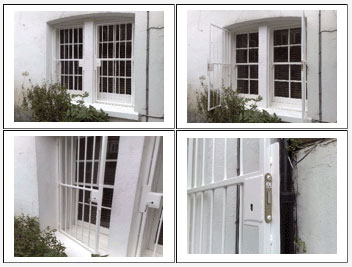 Bar Grille Gates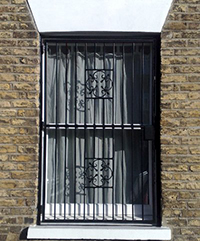 Bar grille gates can be manufactured in any format required; square bar, round bar, box section frames with mesh infills, alley way gates, gates with sheet steel covering for privacy, architectural gates and bespoke gates. Send us a simple sketch together with the sizes of the gate via fax or email and we will contact you with a quotation. If you are unsure of your requirements, feel free to visit us and we will be pleased to help and advise where necessary.
Outlined below are two different applications showing how letter boxes can be made to accommodate varying doors: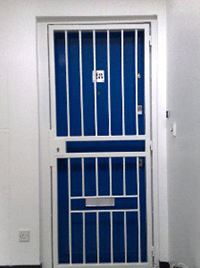 On the left is a gate for a multi-occupancy building and on the right is a small basement with a stairway. Not all letter box openings are set at the same level.
This particular door is the only exit for the occupiers and it must be fitted with a thumbturn lock especially as it is above the ground floor. The thumbturn can be protected by a fully welded box or an adjustable bolted box as shown below.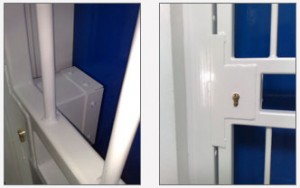 Also note the overlap plate to the left of the lock cylinder, this is to protect the lock bolt, alternatively this overlap can be made along the entire length.